Dog Park Clean-Up Schedule for 2020
| | | |
| --- | --- | --- |
| PARK | CLEAN-UP DATE | RAIN DATE |
| Stittsville Park | CANCELLED due to closure of dog parks during COVID-19 | |
| Heritage Park | Friday, May 1st, 9 to 10 a.m. | Monday, May 4th, 9 to 10 a.m. |
| Bruce Pit | Saturday, May 2nd, 9 to 10 a.m. | Saturday, May 9th, 9 to 10 a.m. |
| Conroy Pit | Friday, May 8th, 9 to 10 a.m. | Monday, May 11th , 9 to 10 a.m. |
PLEASE NOTE: ALL DOG PARK CLEAN-UP EVENTS HAVE BEEN CANCELLED UNTIL FURTHER NOTICE DUE TO THE COVID-10 RESTRICTIONS
Please join us for our Clean-Up Days that take place once in the Spring and again in the Fall.
We hand out bags and gloves to the dog owners, and cookies for their dogs.
RDOC would like to take this opportunity to thank all the wonderful dog owners who help keep our parks clean.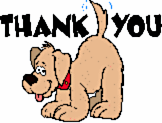 RDOC would like to thank The Pet Shoppe (4772 Bank St, Unit 3A, in Findlay Creek) for donating dog cookies and poop bags for our Park Clean-Up events.
We would also like to thank the City of Ottawa GLAD Cleaning the Capital Campaign for donating garbage bags and gloves. Our dogs are very grateful