FUNDRAISING
Fundscrip Fundraiser
We would like to invite you to participate in the Fundscrip Fundraiser. The fundraiser will cost you nothing - all you need to do is purchase a gift card and use it for a gift, or for yourself.
There are gift cards for groceries, gas, pharmacy, home improvement, restaurants, pizza, household items, clothing stores, movies & books, travel, etc. Some of the participating businesses are Loblaws, Canadian Tire, Chapters, Tim Hortons, Esso, East Side Marios, Toys R Us, Winners, Source.
See the complete list of retailers here: https://www.fundscrip.com/retailers

To join our fundraiser:
To join our fundraiser go to

https://www.fundscrip.com

Click on 'support a group'
Under 'enter group invitation code' type in 'WMGWDR'
Click on 'search' and Responsible Dog Owners of Canada organization will come up.

Login and follow the instructions to place an order
Here is how the fundraiser works:
Buy gift cards at face value, get face value at the retailers - you lose nothing.

Shop as usual with cards from over 230 leading retailers; there's no need to change your shopping habits

Each purchase automatically includes a donation for RDOC that can quickly add up over time.
Thank you for your support
For more information please email morejulie@hotmail.com.
Thank you again for supporting RDOC.
---
'Take Your Owner for a Walk and Support RDOC' 2019 Fundraiser

Responsible Dog Owners of Canada (RDOC) would like to thank all our wonderful supporters at our third annual 'Take your owner for a walk and support RDOC' fundraiser. We raised $850. What an achievement!
The money will be used to support and expand our educational programs.

Thanks again for your support.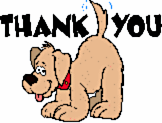 ---
Photos from the 2017 Annual Garage Sale:
page updated March 2021