Canadian Canine Good Citizen Test
A test to demonstrate your dog's good manners and behaviour in a public place!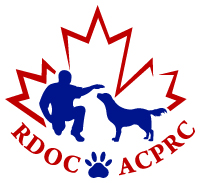 A Responsible Dog Owners of Canada Program
Date:

Time:



Where:


Call Of The Canine, 48 Colonnade Road N., Ottawa, Ontario. https://www.callofthecanine.com


Fee:

$35 per dog


All dogs, six months old or over, are welcome to participate in the test.

Testing is recommended every three years.

Dogs to have received appropriate vaccinations (or titer)

CCGC applicants should be members of RDOC


For more information or to register, please call 613.868.2201 (leave your name, phone number & a brief message) or e-mail: morejulie@hotmail.com

The CCGC Test takes place in a public setting with appropriate distractions. A vaccination certificate, licence, a grooming tool, a plastic bag and a leash with a buckle collar, body harness or martingale collar are required for this test. A dog straining on its lead or touching anyone with teeth or feet is unacceptable and, therefore, a failure.

CCGC Test Preparation Courses in the Ottawa area:

Call of the Canine, 48 Colonnade Road N., Ottawa, Ontario.
For more information contact https://www.callofthecanine.com
or call 613-979-6959

Carolark The Canine Learning Centre, 5933 Hazeldean Road, Stittsville, Ontario.
For more information contact carolark@carolark.com or call 613.591.3277


---

Link to a video on YouTube of one of the dogs taking the CCGCT in April 2009. "Bigglesworth" is a 9 year-old American Pit Bull Terrier who won the hearts of everyone attending. Video courtesy of his owner, Carlos Abastos

Some documents on this web site are in PDF format, and Adobe Reader is needed to read them.
You may already have Adobe Acrobat Reader on your computer but if not, the free software can be safely downloaded from Adobe:

page updated March 2020

..