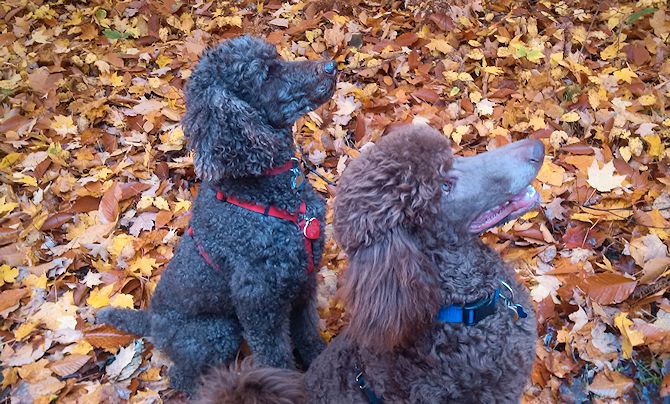 Welcome to our Fall Activity Page

This page is for all you kids who are interested in learning about dogs, how to help look after your own pet dog, and how to be safe around dogs.

Have fun and enjoy the activities. There is a lot to learn. Please keep coming back. We will put something new on this page regularly.

Parents: There is a lot of information on child safety around dogs in the links at the bottom of this page.


Note: Because this page uses scripts you may get the following message "Internet Explorer restricted this web page from running scripts or ActiveX controls." You may have to allow blocked content if you can't see the jumping sheep or the answers to the puzzles, for example.

Unfortunately the jumping sheep below can't be seen on the iPad because the animation is powered by Flash. We are very sorry about that, but we decided to leave the sheep on the page because they are fun for the people who are able to see them!

Jumping Sheep!!

Move your cursor over the sheep and watch them jump!
(from sheepgame.co.uk)



Easy Trick to Teach Your Dog

How to teach "Crawl"


Quiz: Be a Dog Detective




Decode what you need for a new puppy!

Colouring Pages Contest
An Easy Trick to Teach Your Dog
"Tricks are fun! Tricks, like games, keep your dog alert and energetic. They give your dog a chance to play. Tricks give you and your dog time to be together. Tricks help your dog to 'learn how to learn'. If they can learn tricks, then they can learn obedience and good behaviour. Go ahead...have some fun and teach your dog some tricks!" http://www.loveyourdog.com

First, watch the video to see how Bonnie, a very cute collie, learned to crawl. Here is the link to the video and instructions: http://www.loveyourdog.com/tricks2.html# crawl
"Start by having your dog lie down. Hold a treat just in front of his nose and say, 'Crawl'.
If he starts to stand up, say, 'No, down ... crawl'. Pull the treat away, keeping it low, near the ground and say, 'Craaawl'.
When your dog moves even an inch or two without standing up, praise him and say, 'Good dog! Craaawl'.
TIP: Your dog must know 'Down' before he can learn this trick".

This is a great skill to have if you want your dog to help you get objects that rolled under the couch. You have taught your pup how to crawl underneath. Now you just have to teach him to pick up the object under the couch and bring it back to you!"
(top marks to anyone who noticed this is a picture of a red fox, not a dog!)


Quiz
Be a dog detective.
Decode what equipment you need when you get a new puppy .....
Here is the code you will need to decipher the answers:
| | | | | | | | | | | | | | | | | | | | |
| --- | --- | --- | --- | --- | --- | --- | --- | --- | --- | --- | --- | --- | --- | --- | --- | --- | --- | --- | --- |
| 1 | 2 | 3 | 4 | 5 | 6 | 7 | 8 | 9 | 10 | 11 | 12 | 13 | 14 | 15 | 16 | 17 | 18 | 19 | 20 |
| F | M | L | N | B | I | A | D | E | P | S | C | K | O | H | T | G | W | Y | R |
Clues
First clue:

16, 14, 19, 11 (four letters)

Second clue:

1, 14, 14, 8 (four letters)

Third clue:

16, 20, 9, 7, 16, 11 (six letters)

Fourth clue:

5, 9, 8 (three letters)

Fifth clue:

12, 14, 3, 3, 7, 20 (six letters)

Sixth clue:

18, 7, 16, 9, 20 || 5, 14, 18, 3 (two words = five letters & four letters)

Seventh clue:

10, 14, 14, 10 || 5, 7, 17, 11 (two words = four letters & four letters)

Eighth clue:

3, 9, 7, 11, 15 (five letters)

Ninth clue:

4, 7, 2, 9 || 16, 7, 17 (two words = four letters & three letters)

Tenth clue:

1, 20, 6, 11, 5, 9, 9 (seven letters)

Eleventh clue:

1, 14, 14, 8 || 5, 14, 18, 3 (two words = four letters & four letters)

Twelfth clue:

12, 3, 6, 12, 13, 9, 20

(seven letters)
When you have finished all the questions, the answers are below.

(no peeking until you have finished the puzzle!)
How many clues did you manage to solve?

---
Answers
First clue:

TOYS

Second clue:

FOOD

Third clue:

TREATS

Fourth clue:

BED

Fifth clue:

COLLAR

Sixth clue:

WATER

BOWL

Seventh clue:

POOP

BAGS

Eighth clue:

LEASH

Ninth clue:

NAME

TAG

Tenth clue:

FRISBEE

Eleventh clue:

FOOD

BOWL

Twelfth clue:

CLICKER
quiz compiled by Julie More


Colouring Pages Contest
We would love to hear from you

Click here and print out the picture that opens. Colour the picture carefully with pencils or crayons.

Then tell us why your pet is special, and what rules you have in your house to make your pet safe.

Send it to us at morejulie@hotmail.com with your email address. We will choose a winner each month and post it in our newsletter for everybody to see.




Get to know where all the dogs live in your neighbourhood, which ones are friendly, and which ones are not too crazy about little kids. Let an adult know if you see a strange dog without an owner visiting your neighbourhood.

(from the Fido, Friend or Foe activity book)

Healthy pets are happy pets.
Your pet is very happy that you look after him so well.

---

What if You Can't Have a Dog?
Not everyone can add a dog to their family.
Perhaps your house is too small (you live in an apartment or condo), or your landlord doesn't allow you to keep a dog. Perhaps your family just doesn't have the time to exercise a dog, groom her, or take her to the vet when she is sick. Or maybe someone in your family has allergies to dogs.

Have you considered a cuddly, friendly little hamster or gerbil instead? Or even something not quite as cuddly, like a bird or a fish?

How about a rabbit or a guinea pig? They make wonderful, affectionate and fairly long-lived pets. Or a mouse or rat? They are intelligent and can be taught to do tricks quite easily. How about a hamster or gerbil? A chinchilla? Or, if the allergic person cannot tolerate any animal hair, there are pet birds. Or fish. Did you know that with patience you can actually train a goldfish to do simple tricks such as swimming through a hoop for rewards? Amazing!
Be sure to check out your local humane society or animal rescue when looking for a new pet. They frequently have many different types of animals, both large and small.
Some very colourful and beautiful pets:
Parrots, Parakeets, Cockatoos, Cockatiels, Budgies, oh my .....
A flash of brightly coloured feathers. Singing or chirping, or even talking, in his cage in a bright corner of the room, this is the ever popular pet bird.
Pet birds are beautiful, playful and fun, and usually very friendly. Other than the larger parrots, they take up very little space compared with a dog. They are very suitable for apartment living, although some do sing (or even squawk) rather loudly and might possibly disturb the neighbours.
Many members of this family are very long-lived, so adopting a large parrot is something to think carefully about. They all need company and lots of love and attention. And they can be very affectionate with the people they know and trust.
A pet bird will delight you with its antics. You can even teach some of them how to talk and do tricks. They become very tame and love to be near you. You can allow many of them out of their cage to fly around the room and get some exercise (having shut the doors and windows tightly, of course!).
There are some links below where you can find lots more information on how to look after birds.
Here are some useful bird keeping links for you, with much more information:
https://www.lovethatpet.com/small-pets/birds/
http://healthypets.mercola.com/sites/healthypets/archive/2011/01/20/reasons-to-get-an-exotic-pet-bird.aspx
http://naturepet.com/wp-content/uploads/2014/06/bird-care-guide-en.pdf
https://pethelpful.com/birds/Tips-for-Caring-for-Your-First-Pet-Budgie-Parakeet
http://budgieplace.com/basic.html (lots of Amazon ads on this site)
https://www.mspca.org/pet_resources/bird-care-guide-parakeets-budgies/
http://www.aav.org/resource/resmgr/PDF_2016/Basic_Care.pdf
http://www.ottawahumane.ca/wp-content/uploads/2015/01/parrots.pdf

For Parents Too
The Blue Dog
http://www.thebluedog.org/en/
The Safe Kids/ Safe Dogs Project
http://www.safekidssafedogs.com/
"Get dog smart with Diggity the Dog! Diggity the Dog's story encompasses the number one cure for the dog bite epidemic. The story takes children on a fun walk through the neighborhood. Along the way, children encounter a whole lot of dogs in different situations. Diggity tells the "do's" and "don'ts" - right from the doggie's mouth."

http://www.liamjperkfoundation.org/talk.html
Little Liam was fatally bitten by his family's own beloved dog. This site is full of information for parents and caregivers - such as dog body language; dog stress signals; signs of anxiety; why dogs bite; Be a Tree, and more. Well illustrated.
https://drsophiayin.com/blog/entry/free-downloads-posters-handouts-and-more/
Dr. Sophia Yin's website: dog body language of fear and anxiety; how to greet, and not to greet a dog; also training tips and much more.
http://www.sciencekids.co.nz/gamesactivities.html
"Science Kids is the home of science & technology on the Internet for children around the world."
This wonderful website helps kids learn about the amazing world of science by enjoying the "fun science experiments, cool facts, online games, free activities, ideas, lesson plans, photos, quizzes, videos & science fair projects."
http://www.pbs.org/wgbh/woof/index.html
Woof! It's a dog's life. Tips and training help from "Uncle Matty"
Acknowledgements
Be A Tree program: The information on our Education - Dog Bite Prevention page was compiled by Doggone Safe - visit their website for more information on the Be A Tree program.
The people at the Love your dog website have very generously allowed us to reproduce some of their articles. Please visit them, there is lots to enjoy there.
The American Kennel Club (AKC) also has much information and many games to play.

..